Posted by Northwest Gifts on 15th Mar 2021
Let's face it: turning fifty is a huge deal! Two 25 year olds, half a century - no matter how you cut it, 50 is a birthday that calls for a celebration.
And gifts!
Monumental, wonderful, well-thought-out gifts. (We've got you covered in that area.)
Our 10 Favorite 50th Birthday Gifts for Men
Scroll through for the most perfect selection for your favorite 50 year old.
1. Personalized Bottle Opener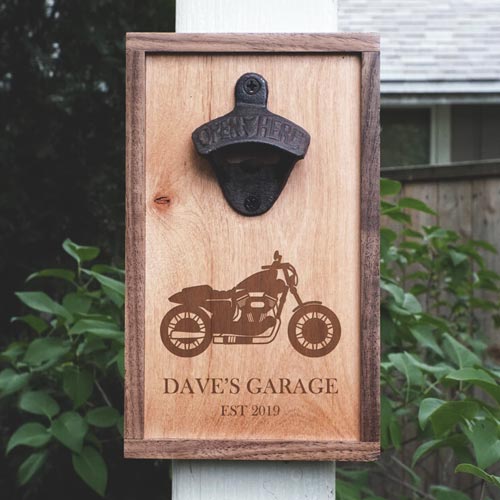 Not only gorgeous to look at, but practical too, this personalized bottle opener can be chosen in all sorts of genres: from motorcycles (pictured above) to fishing to golfing to farming to even just the tried and true "Best Dad Ever."
He's going to love this! (And use it often.)
2. Make Him a Coupon Book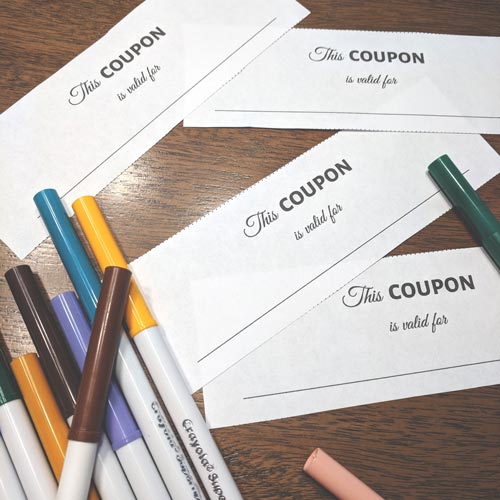 Whether it's for Dad, your boyfriend, your uncle, your spouse, or whomever, a personalized homemade coupon book is always on point.
Fill it with all sorts of experiences, from a homecooked meal to a fishing trip to a shopping spree in NYC to a night at the firepit.
Of course, for that special someone in your love life, you can go more romantic: couple's retreat, full-body massage, candle-lit dinner, and adult board games, to name a few! Strip poker anyone?
3. Personalized Whiskey Aging Barrel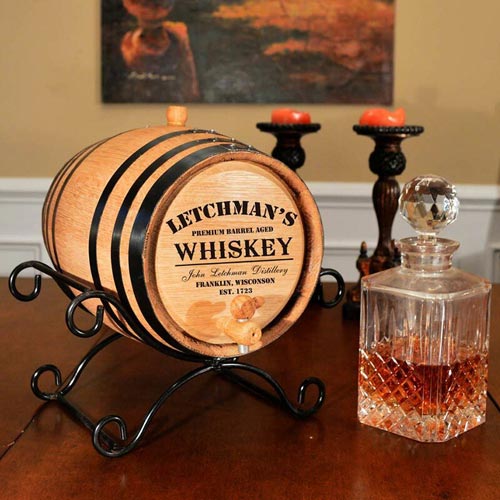 Not just a cool decorative piece (although it is that as well), this personalized whiskey aging barrel is a real, working barrel! You got it: he can age his own whiskey and become a connoisseur in the alcoholic arts (we think that's a thing anyway). He's going to be really impressed with this one, and so will his friends.
4. An Experience
If you know him better than anyone, than this is a gift that you can't go wrong with. Fine-tune his hobbies, desires, dreams, personality, and bucket list, into an experience gift fit for a king.
Horseback riding, pub crawls, kayaking, bird watching, lighthouse tours, Civil War reenactments, panning for gold, tickets to his favorite band or team - anything is possible!
The only thing better than putting this together for him is seeing his face when you give it to him. For experience gift ideas and how to "gift" them, see our guide here.
5. Personalized Best Ever Tumbler

It's a scientific fact: you can never have too many tumblers! And mixing up his with his coworkers or family members will be a thing of the past when you customize this vacuum-sealed one in whatever way you like best.
Best Hubby Ever, Greatest Golfer You Know, or just good ol', Big Dave.
6. A Fun Subscription Box

There are so many out there to choose from, you'd be surprised at the variety! What's his favorite thing to do, food to eat, new things to try?
Whether he has a fondness for pickles that cannot be quenched, or is a voracious bookworm, or loves true crime and wants to be an armchair detective, a subscription box is out there for you and ready for him!
Some ideas:
7. Custom Engraved Glencairn Whiskey Glasses
Good-looking, classy, and useful to boot, these Glencairn whiskey glasses are just the thing for smooth sipping! He'll feel like 007 when he pours a drink in one of these.
8. A Fun Custom Pub Sign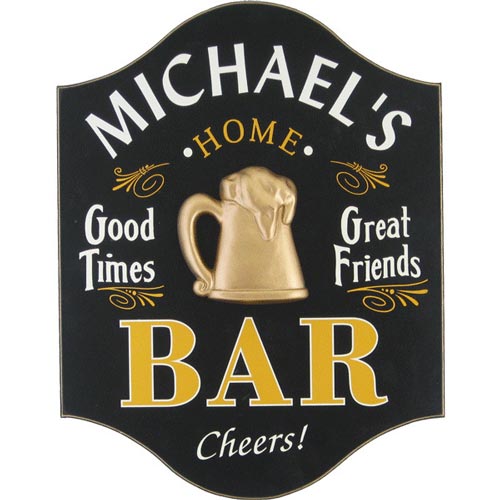 Now that he's a full-fledged adult, he'll no doubt welcome the thought of having his very own pub-at-home. If you can't afford a major renovation to create a spacious, comfortable home bar, you can do the next best thing:
Get him this sign. It's the perfect 50th birthday gift for him!
9. Personalized Handcrafted Plaque for His Office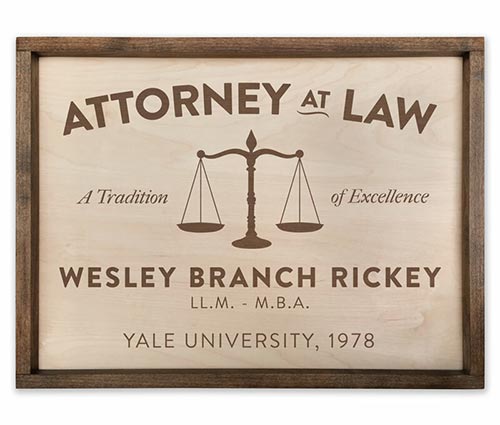 A handcrafted plaque always brightens up a living space or office, and this fully customizable one is perfect for whatever his job/hobby/interests are. Beekeeper, dance teacher, cardiologist, physical therapist, underwater basket weaver? We've got you covered.
10. Personalized Birthday Journal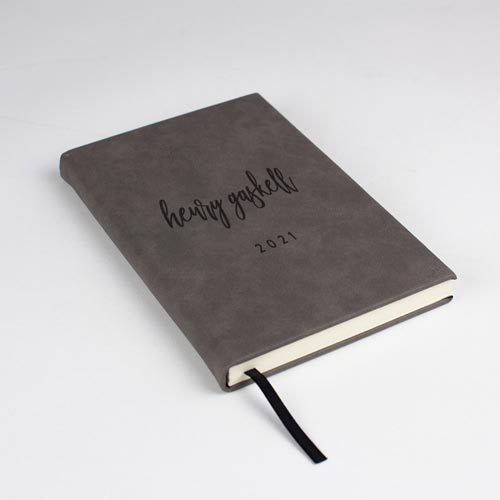 He'll love to write down all his thoughts and plans in this custom laser engraved journal. Includes 120 pages of lined paper and a satin bookmark, plus your choice of gray, brown, or teal color.
More Inspiration for 50th Birthday Gifts for Him
Date Night! And it doesn't have to only be for lovebirds. Date nights are fun for father/daughter experiences too, or for double dating with a couple. Plan a night with several stops along the way; whether it begins with dinner and ends at a theater, well, it's all up to you. All he has to do is go along for the ride and enjoy himself.
Learn a skill together. Making ravioli, learning to skateboard, adopting a puppy, going sky diving … the sky's the limit! What's something he's mentioned before? Do that!
Make a scrapbook of his 50 years. A bit of hunting through old photographs (hint: call his mother or siblings), some craft paper, glue, and you, is all it takes to make a priceless memory book for him.
A cake! Sure, sure, birthday parties have cake, but sometimes the cake is so special it literally IS the gift. Whether you are a fabulous baker, or you know of one, or you simply want the local cake shop to come through in a big way, this is a box he's going to love opening. Gab a fork!
Gag gifts. Hey, 50 is getting pretty ...um, UP THERE, you might say. Let's not sugar coat it; he's getting old! Fill a bag with hemorrhoid cream, bifocal glasses, Bengay muscle rub, spray on hair color, nose-hair trimmers, suspenders, and whatever else you can find to remind him just how young he … isn't.
A magazine subscription. Old timers like him like the old-fashioned way of reading: by turning actual pages, not swiping or scrolling. Get him a magazine subscription in a genre he loves: from Western living to cooking outdoors to camping and fishing to military history, there's a 'zine out there just waiting for him.
A new kitchen applicance/tool/gadget, plus the ingredients for making that treat right then and there! Ice cream maker, waffle iron, air fryer, Insta-Pot, whathaveyou. The possibilities are almost endless. And it's the gift that gives back to you too …
A tattoo. No, we're not saying he's having a midlife crisis, but turning 50 is a great opportunity to commemorate something by you know, permanently etching it into his skin. The names of his kids, his anniversary date, a Bible verse, whatever floats his boat. Just make sure to go with him for emotional support!
A photograph from his childhood turned into a work of canvas art. All you need is a beautiful (or funny or memorable or goofy) photograph from his past, and a membership to Costco (or another store that does photos). It's surprisingly affordable and all you'll need next is a big old bow and tag.
-
Plenty of great ideas for your 50 year old man! If you need even MORE inspiration, check out this great big list of 50th Birthday Gift Ideas, and be sure to explore everything we offer here at Northwest Gifts.