Posted by Northwest Gifts on 20th Jan 2021
So your BFF, daughter, sister, mother, colleague, is turning a half of a century?
It's not always true that women don't like to tell or talk about their age; this birthday is one to celebrate for sure! A thoughtful gift that you put some serious brain power into is going to be remembered fondly for years to come.
10 Beloved 50th Birthday Gifts for a Female Friend
Here are ten 50th birthday gifts that will capture her heart and gratitude.
1. Personalized Wine Glasses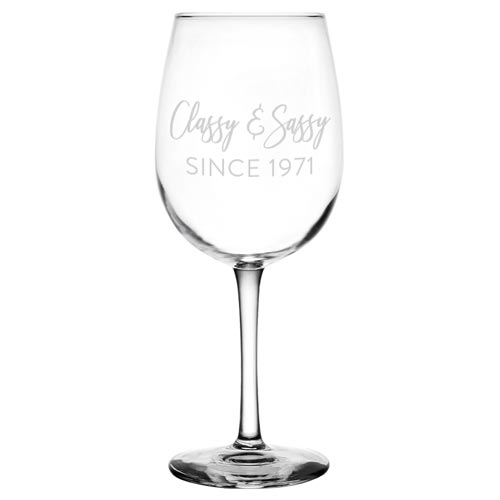 You can buy those little trinkets to attach to your wine glasses to differentiate them from your friends, sure. But why would you when you can personalize the glasses themselves?
From sweetly sentimental ("Best wife ever"), to memorialize a date (like her 50th birthday obviously), to something witty or snarky ("50 is the new 40!") these personalized goblets will be given the prime spot in the cupboard and used often.
2. Decadent Chocolate Gift Basket
99.9% of women love chocolate. I just made that stat up, but I'm feeling confident it's wildly accurate!
Fill a pretty basket with all the chocolate it can hold and watch her face light up. If you're unsure of her very favorite, include a few of each: dark, semisweet, milk, and white.
If you're lucky, she'll share.
3. Custom Cutting Board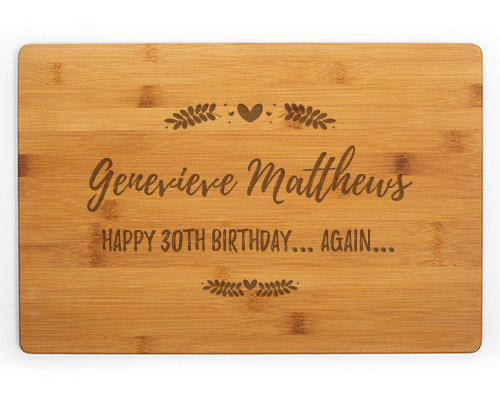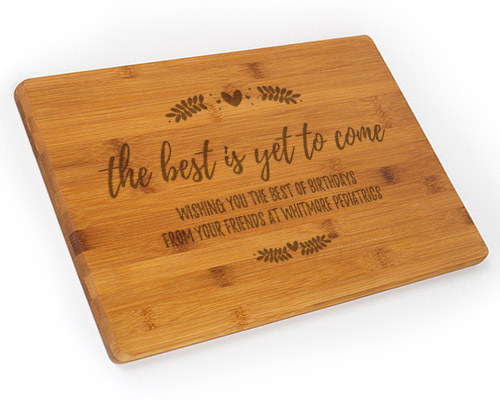 Whether her knife skills belong on Top Chef or Worst Cooks in America, this personalized custom cutting board will get plenty of use.
It's made of bamboo and is the perfect size for slicing cheese, onions, salami, or even used as the platter itself for a yummy charcuterie.
4. Succulents & Cute Planter
If your newly turned 50 year old is a Plant Mom, she'll appreciate some gorgeous succulents and an adorable planter to go with. Try your local nursery or flower shop for the succulents, chat up the employees, pop them inside the sweetest little planter you can find (um, the succulents, not the employees), and this gift will be a winner!
5. Margarita Bar Sign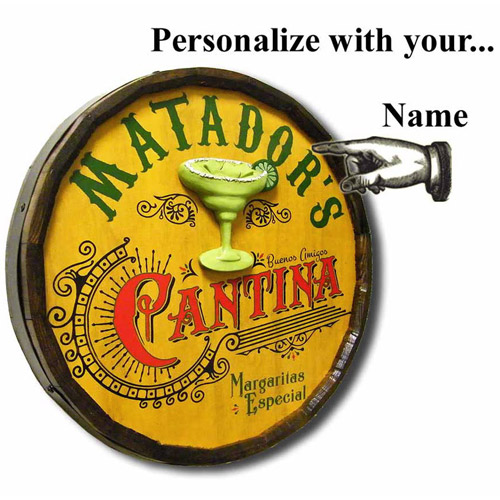 Nothings says it's time to party like turning 50, unless it's this adorable margarita bar sign! You can personalize it just for her, and if you're lucky, she'll get out the blender and rock salt posthaste. Cheers!
6. A Gel Manicure
You can go the professional route and purchase a gift certificate to her favorite salon or spa, or you can purchase the polishes and gel light for her to DIY her fingers and toes for years to come! Make sure you include a few bottles of her favorite shade.
7. Personalized Cedar Wood Bird Feeder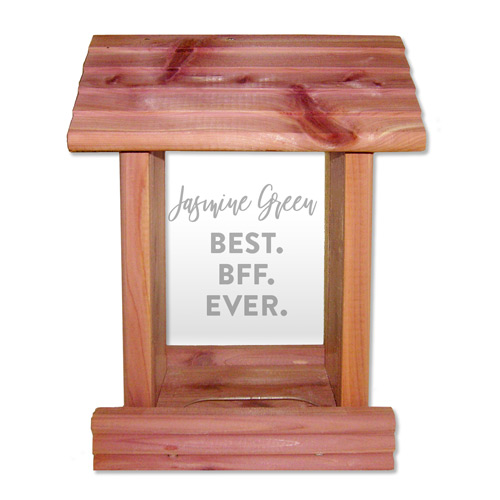 Now that she's 50, she might actually have a little more time on her hands to stop and smell the roses and to stop and feed the birds! Give her this cute and personalized cedar wood bird feeder and watch her smile.
For the women who loves the outdoors and a cup of coffee on the porch, this is a must-have.
And no, Best BFF Ever is not redundant. It's AWESOME.
8. Candles
They're soothing, smell yummy, and add atmosphere. What female friend wouldn't love candles? None. That's how many.
Make sure you know what scents she likes/dislikes and if you aren't sure, go for the smaller ones and buy several instead of one giant candle.
9. Custom BFF Tumbler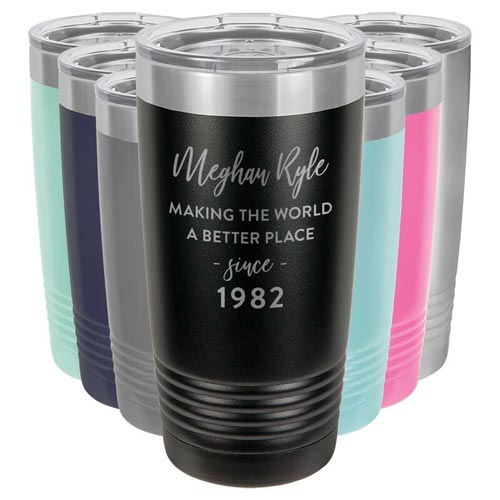 Vacuum sealed and available in more colors than you can shake a stick at (but why would you?), these custom tumblers can be personalized however you want.
She's going to go bananas over this one, guaranteed! Coffee drinkers, tea sippers, smoothie lovers alike will rejoice upon opening this new travel treasure.
While you can customize it any way you please, the pre-set personalized birthday design from above is here, and the one pictured below is here.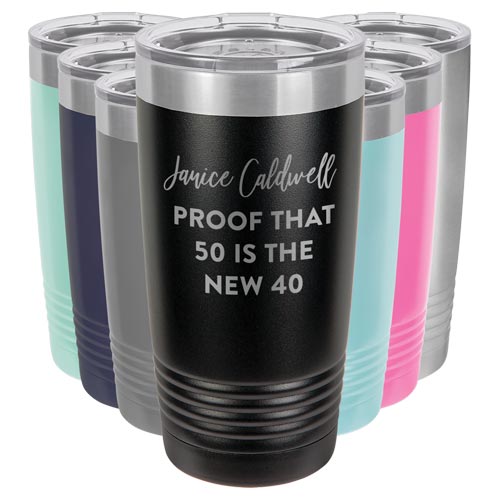 10. Spa Gift Basket
Not only does she deserve a day of pampering after being on this crazy planet for a half of a century, but a gift basket is just plain fun to open and discover all the treats inside.
Plus, you'll have just as much shopping for the little items of luxury as she will unwrapping them!
Items to consider including in your basket:
Decadent shampoo and conditioner
Face masks
Hair accessories
Nail polish
Lotions
Bubble bath
Bath salts
Manicure/pedicure set (clippers, files, etc)
Massage oil
Facial or body scrub
More Inspiration for 50th Birthday Gifts
Need some more ideas? We have ideas a-plenty!
Old-Time Candy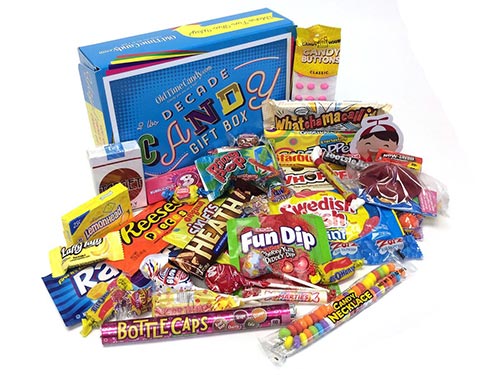 This store has candy from every decade, so you can give (to your female friend, or to yourself - just sayin') the gift of sugary nostalgia.
The Decade Candy Gift Box features old-school gems from any decade of your choice. For the 50-year-old in your life, that means (some quick maths here, let's see…) probably the 1970s box.
Coffee Lover's Delight
You could make up a gift basket with different brews, or you could purchase a mug that perfectly fits her personality and fill it with coffee cards to local shops.
Don't forget coffee accessories, like honey stirrers, syrups, flavored creamers, tumblers, flavored or fancy sugars, or a French Press!
Nighty-Night Pajamas Set
If she's the hard working type she needs some new jammies to relax in!
Encourage her to stay in bed a little longer with some satin or flannel pjs, some fluffy new slippers, an eye-mask, and a soft blanket for snuggling.
Stay At Home Date Night
Sure, it's fun to go out for a night on the town, but then you'd have to like, wear pants! **gasp**
If she's a homebody, she's going to absolutely love a basket filled with DVDs, wine, fluffy socks, popcorn, candy, and hot cocoa. She may never leave the couch for a few days but we think she's earned it!
A Book Worm's Idea of a Party
If she's your favorite nerd and prefers a good paperback to a night at the club, she'll love a tote filled with books by her favorite author.
Include some bonus items too, like delicious snacks, bookmarks so dog-earing just isn't a temptation, a booklight for midnight reading, and a journal for jotting down her own ideas for the Next Great American Novel.
More Inspiration