Posted by Northwest Gifts on 4th Dec 2020
What is a good nursing school graduation gift? The freshly minted grad has been working so hard for so long. And now they're at the end of their grueling schooling!
But at the same time, they're right at the beginning of the next big phase: A new, amazing career.
What's a thoughtful, yet useful gift for the nurse in your life? We have some great ideas.
Best Nurse-To-Be Gifts
1. Personalized Nurse Fuel Travel Mug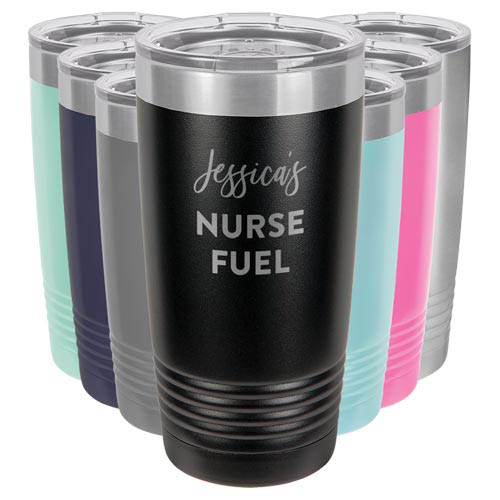 This nurse runs on caffeine. Whether they prefer it in the tea leaf form, or in an espresso, your favorite nurse will be covered with this sweet travel mug.
Besides superheroes, nurses save the world on a daily (or nightshift) basis, and they'll appreciate something that gives them a shout-out AND holds their necessary beverage.
2. A Premium-Quality Stethoscope
Let's face it; we all wanted one as little kids when we dressed up as doctors and nurses, and they want a good quality one now. It has to be half the fun of being a nurse, right?
Whether slung over their shoulders, Dr McDreamy style, or tossed into their bag at the end of shift, this is one gift that will keep on giving for a long time coming.
3. Nursing School Survival Gift Basket
Putting together a gift basket of useful items after (or during, or before) nursing school is a thoughtful and meaningful way to show how much you care. Of course it can be tailored to fit his or her own preferences, quirks, and personality, but we suggest the following:
Good quality, fair-trade chocolate
Locally made beef jerky
A book of crosswords or Sudoku for down time
A travel pillow for napping when they can
Soft socks for tired feet
Slippers
Winter gloves for those early mornings
A high-quality pen
A datebook/journal/planner
4. High-Quality Headphones
Something that most school goers want, but may not have the finances to spare for, a set of high-quality headphones will be just the ticket. Whether Audible books, music, or podcasts are their thing, they will appreciate these every time they get a chance to use them.
Best Nursing Graduation Gifts for Her
5. Personalized Cutting Board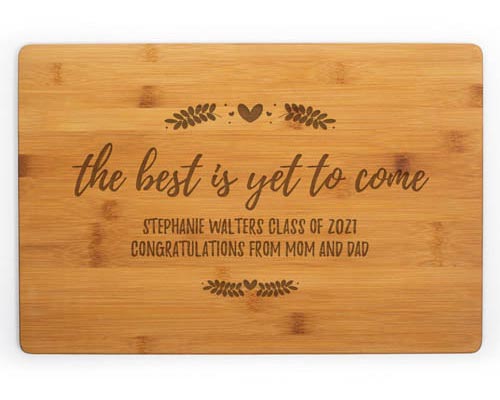 You can be as smarmy or as cheeky as you like with this personalized cutting board. She'll think of you every time she uses it, so pick your words wisely!
6. Personalized Wine Bottle Opener
Who doesn't love a glass of vino at the end of a long shift? And who deserves it more than her?
We wager no one; that's why this personalized wine bottle opener hits all the right notes (like floral and fruity, heady and vibrant, and … all those other things one says when wine tasting).
7. Bicycle
With all that school debt they've likely accumulated, who can afford a car? A spiffy new bike is just the ticket for quick commutes to the hospital (and it's much easier to park). Who is more health-conscious, after all, than your favorite nurse? P.S. Don't forget a basket and maybe a bell.
8. Cute Scrubs
She's got to wear them, might as well make them adorable! With patterns ranging from whimsical to classy, it's easy to find a few pairs that will make her excited to get dressed for work.
Pro Tip: Find some with plenty of pockets for pens, thermometers, earbuds, and the like.
Nursing Graduation Gifts for Him
9. Handcrafted Beer Bottle Opener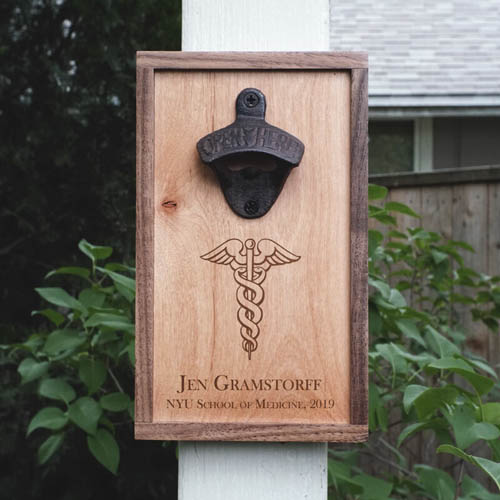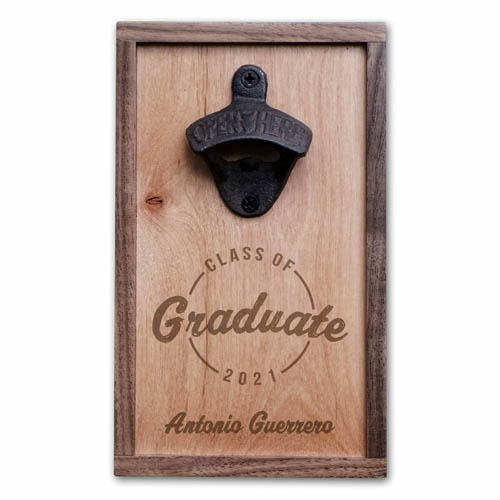 Nurses work longer shifts than… um, anyone. At the end of a tiring day or night, a cold bottle of beer is the perfect ending.
And opening it with one of these handcrafted bottle openers? It's the cherry on top.
Available in multiple designs, each includes personalization.
10. Custom Cedar Bird Feeder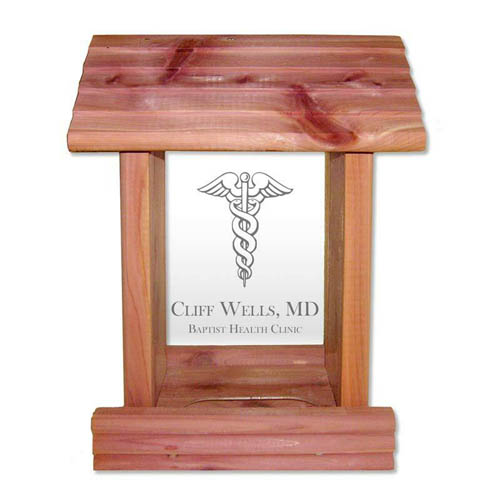 When he's up early along with the birds, why not give him something that is nice to look at, and practical too? This custom cedar feeder will cheer up the back porch on mornings when he gets a chance to put his feet up, sip his coffee, and identify that cardinal.
11. Outdoor/Backyard Games
Who's better at combining healthy and fun than a nurse? Probably no one, that's who! Outdoor games are just the thing for that weekend he finally has off of work. Just add friends and family (and some BBQ).
12. Back & Shoulder Massager
When tensions are at an all-time high, due to long shifts, heavy patients, and endless hours on their feet, nothing will feel better than a back and shoulder massager. Roll out those kinks and sore spots with one of these epic gifts.
Nurse Graduation Gifts for Daughter or Son
13. Pacific Crest Personalized Nurse Sign
Not only personalized with their name on the optional sign hanging below, it's also fully customizable so you can be as clever or as sweet as you like when you gift this gorgeous wooden sign.
Set up in their new office space, or simply at home on their wall, this Made in the USA sign will be treasured by them, and the talk of all their guests. Customize with your favorite medical quote, or with their graduation date and university. Don't forget those hard-earned initials after their name!
14. Heirloom Keepsake Box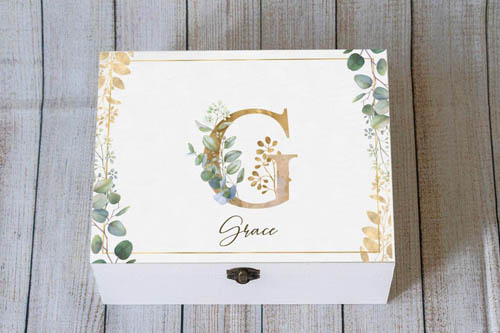 Graduating nursing school is a huge accomplishment, and this heirloom keepsake box can be filled to the brim with all of their mementos and memories from this special time. Give it as-is to be filled by them, or fill it yourself with goodies and photographs.
15. A Weekend Getaway
No one needs (and deserves) a weekend getaway like a nursing school grad! This will officially be the best gift they receive and they will be sure to treasure every second of their relaxing and rewarding vacation. It can be elaborate (a tour of the Napa Valley), or simple and sweet (a stay at a nearby B&B).
Check out more ideas like this in our master list of Experience Gifts.
More Thoughtful Nursing School Graduation Gifts
16. Wine of the Month Club
If your gift recipient is the wine loving type, this wine of the month club will make them remember you fondly each time they pour a glass! If you're lucky, they'll share. Cheers!
(Here's a review of our favorite Wine of the Month Club.)
17. Candles
Aromatherapy: it's a form of self-care that your nursing school graduate will take part in with pleasure. Whether sweet or citrusy, woodsy or floral, candles are always a great go-to gift.
18. Succulents
Hardy but beautiful plants are just the thing for a nursing school grad. Something cheery and sunny to come home to after a long shift, succulents are a gorgeous way to decorate their home.
19. Custom T-Shirts for the Whole Cohort
Whether matchy-matchy for the whole crew, or personalized for just your very own nursing school graduate, a comfy and custom T-shirt is a great way to go!
They'll never be so glad to slip out of those scrubs and into their new favorite T-shirt.
20. Best Nurse Ever Tumbler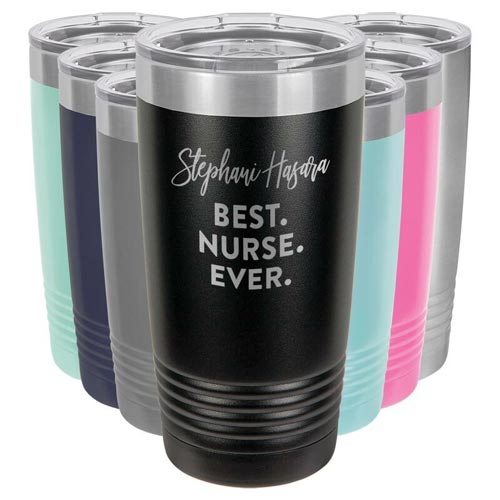 In case there was ever any doubt as to who the best nurse ever is, this tumbler will make it known far and wide. Custom engraved and vacuumed sealed, this will become their go-to as they leave the house for a long shift. Tip: fill with their favorite tea bags, a gift certificate to a coffee shop, or some hot cocoa packets, for extra love.