Posted by Northwest Gifts on 11th Nov 2020
From the outdoorsy (salt spray in our hair, the sand beneath our feet) to the indoorsy (the sound of the surf from our comfy window seat where we're curled up with a hot beverage), who doesn't long for the ocean?
Thalassophile. An ocean lover.
It's a condition. And no, we're not mad.
But since you can't wrap up the sea for your very own thalassophile, here are 10 amazing and personalized gifts to bring a smile to your merfolk friends.
And psst, grab a couple for yourself too, especially if you're landlocked and yearning for the waves.
10 Personalized Ocean Gift Ideas
We've got five ideas for her, and five more for him.
Personalized Ocean Gifts for Her
The females in our lives have a little bit of Ariel in them.
There's something magical and romantic about the ocean, something uniquely feminine that beckons to their hearts.
We can't explain it, but every girl has wrapped her shawl around her shoulders and dreamed of strolling hand in hand with her one true love, or staring wistfully towards the horizon towards a phantom ship.
Don't question it: just go with it.
And when gift-giving season comes around, find a personalized ocean gift like one of these, just for her.
Custom Engraved Beach Lover Tumbler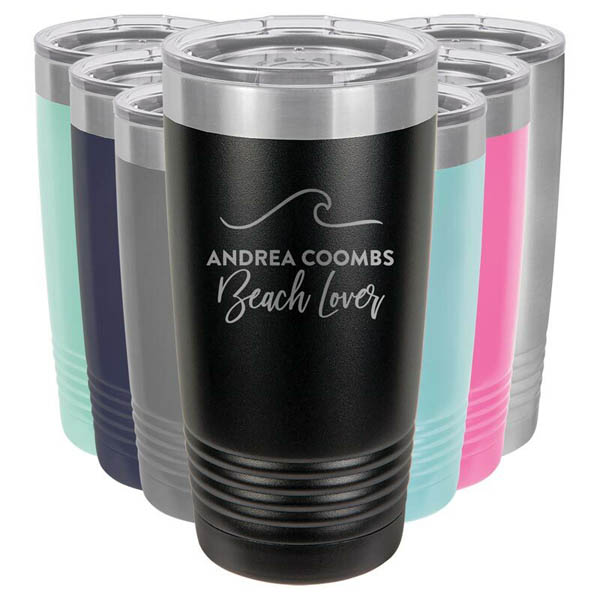 Staying cold for those hot beach days, or hot when you're walking the sandy shore in the winter, these personalized vacuum-sealed tumblers are the perfect choice for staying hydrated.
You can customize with her name (never to be accidentally swapped out for a coworker's again), and even add a cheeky Beach Lover or Mermaid after her name.
There are seven colors to choose from, but we admit to being partial to the ocean colors: Light Blue and Teal.
White Sand, Salt Water Personalized Sign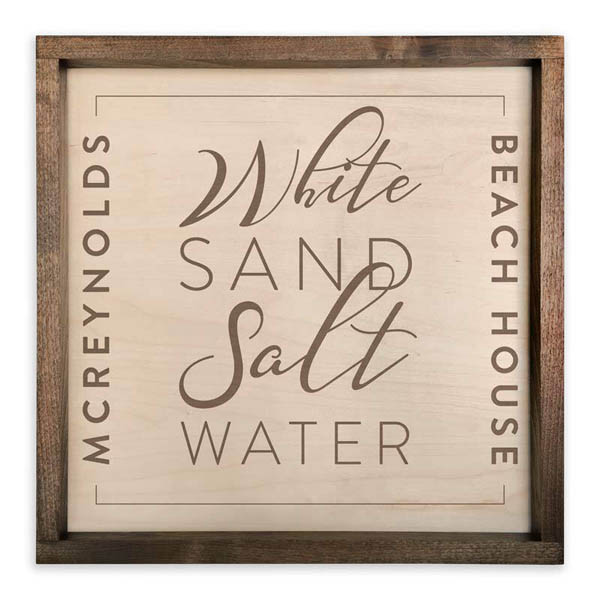 This rustic-yet-modern sign is perfect for her beach house (or what she wishes was her beach house).
Personalized with her name on the left, the earth-toned colors and timeless look will fit in with whatever her personal style. You can even customize the right side as well, from Beach House to Cabana or Sand Castle.
Sea Turtle Ocean Lover Cutting Board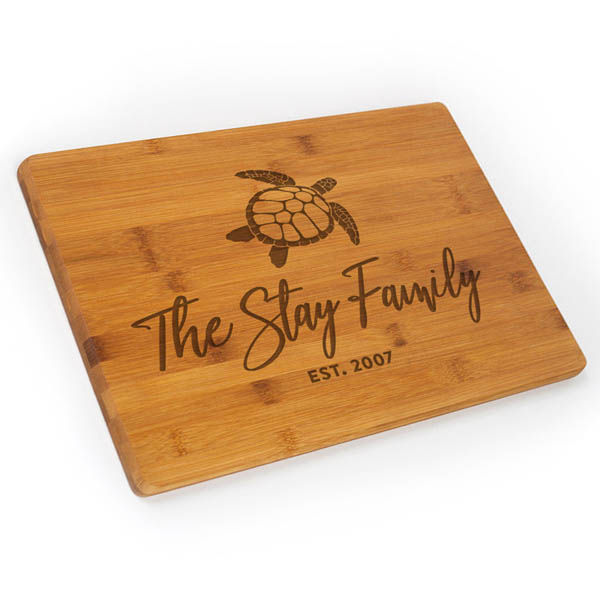 For the chef of the family, you can't go wrong with this absolutely adorable sea turtle cutting board.
You won't be able to stop the smiles on her face as she uses this invaluable kitchen tool each time (well, unless she's chopping onions, that is).
Made from bamboo, it's a spacious 18 x 12, and can be personalized with her name, or a family's name, and even the date they were "established." Get it here!
Matching Sea Turtle Coaster Set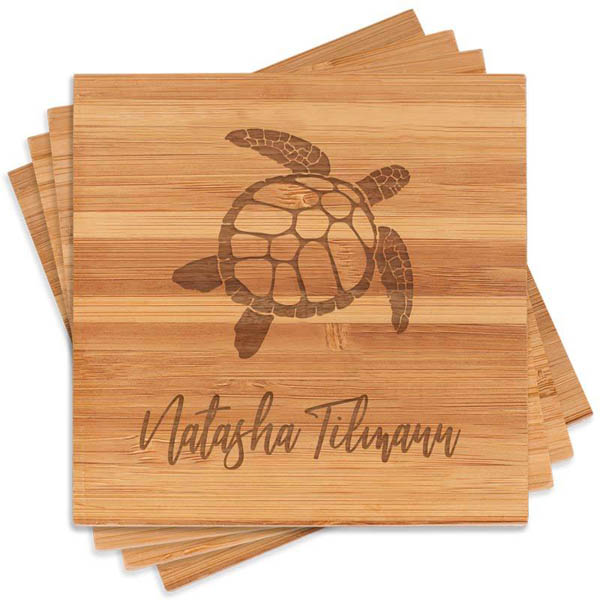 While you're getting that gorgeous cutting board, why not order this custom set of sea turtle coasters as well?
Summertime margaritas and wintertime Hot Buttered Rums won't be leaving any rings on the table anytime soon with these whimsical coasters. The set of four includes its own bamboo coaster holder.
Personalized Ocean Gifts for Him
What little boy didn't dream of being a pirate?
When you can't sail the high seas in real life but still find yourself craving fish and chips, wearing rubber boots, and saying Argh at all the opportune times, it might be time to give in to your salty desires.
Aye aye, cap'n! Here are five ocean gifts for the Long John Silver in your life.
Personalized Captain's Bottle Opener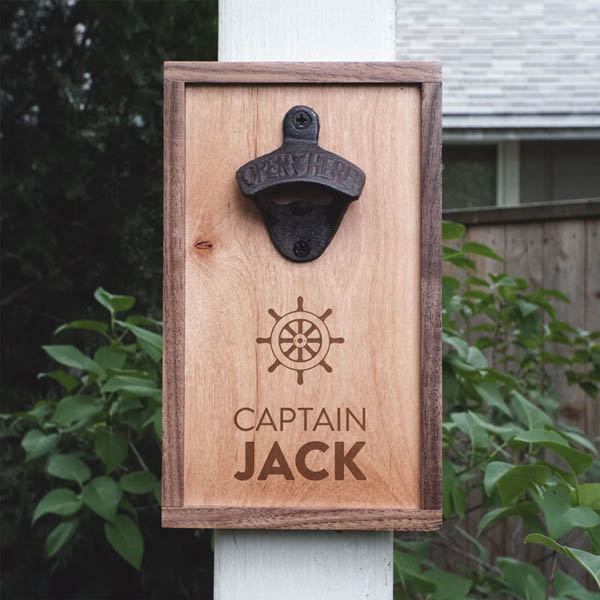 Made from rustic woods in contrasting colors, this custom engraved sign/bottle opener is any sea captain's dream. It would look just as at-home in a den, the back porch, or on a boat.
Not just great looking, but totally practical … just like him! There's even no character limit so you can get creative with the personalization.
Seaside Tavern Quarter Barrel Sign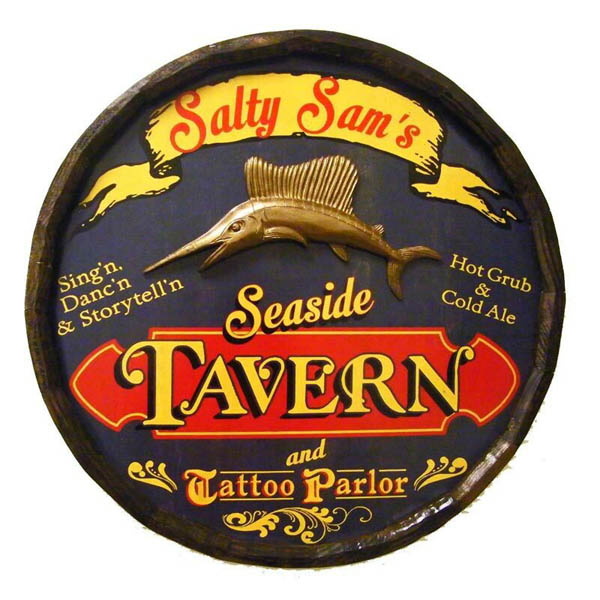 Want to get salty? This tavern and tattoo parlor sign is a sly wink and a nod to old sea chanties and the rough and tumble personalities of sailors.
His new custom screened plaque is made in the USA from oak, and will be the star of any pub, tattoo parlor, garage, or living room. It's the perfect personalized ocean gift for him.
Custom Engraved Pocket Knife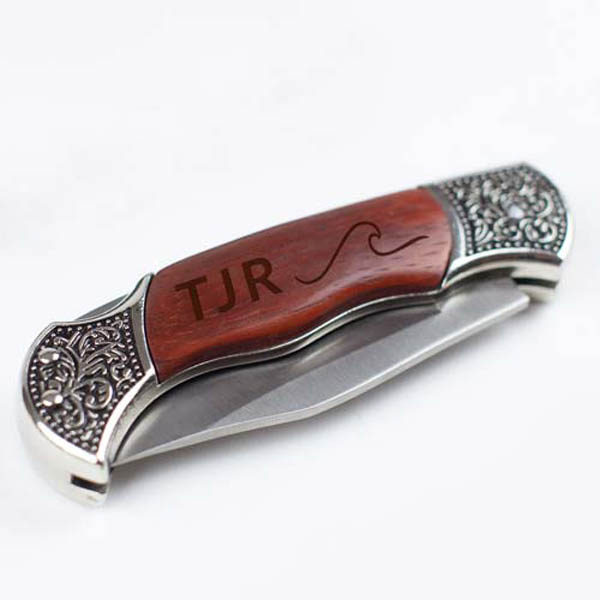 If you've ever been fishing you'll know that any sailor and fisherman worth his seasalt needs a good knife.
The old-fashioned style makes it timeless and the personalization means his fishing buddies won't mix up their (less classy) knives.
Genuine rosewood handle and a 3" stainless steel blade makes this nifty ocean gift the sharpest tool in the shed, literally and figuratively speaking.
Personalized Crab Shack Beach Bar Sign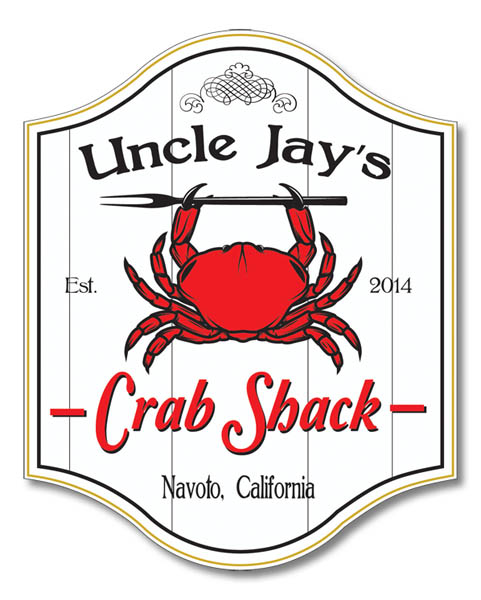 Whether he's ever owned a crab shack or simply dreams of one (and who doesn't?), this clever sign is sure to make the beach bum in your life smile.
With a crab in an eye-catching popping red color, it's streamlined and nautical, but still whimsical and tongue-in-cheek. You can add in his hometown or his dream location too, making this even more personalized than a simple sign.
More Great Gifts for Ocean Lovers
Here at Northwest Gifts, our specialty is personalization. That's what makes a great gift - the personal touch.
You can create the perfect ocean theme on just about any of our products. We have plaques, keepsake boxes, bird feeders (popular!), carabiners, corkscrew wine openers, and plenty of other unique and interesting products that we can laser engrave for your special someone.
We'll close with these...
Beach House Dartboard Cabinet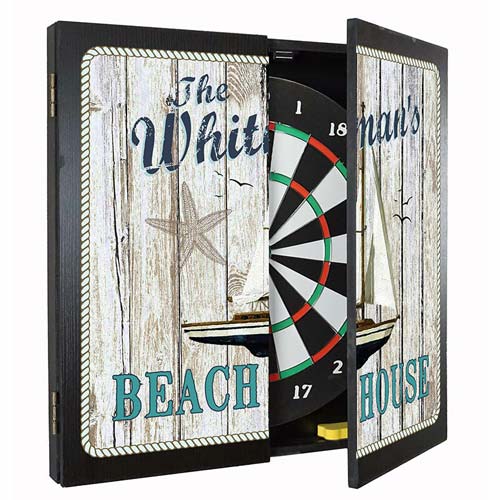 Personalized Glassware - Add Your Own Ocean Theme!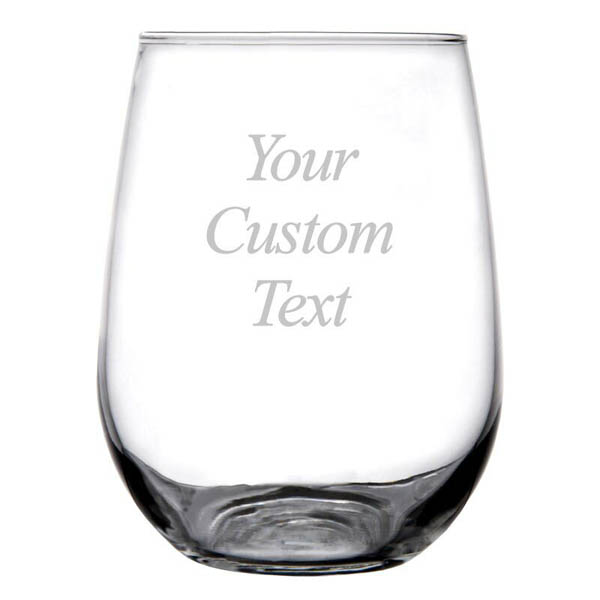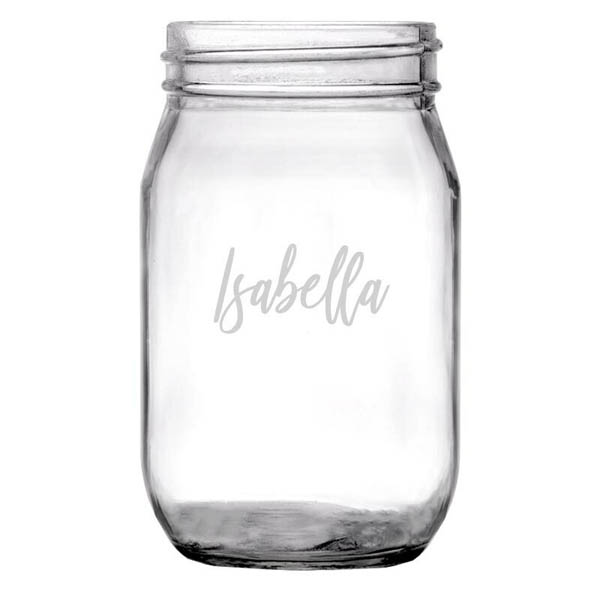 Browse our Beach & Ocean Themed Gifts collection for even more great ideas!