Posted by Northwest Gifts on 28th Jan 2021
If you're blessed enough to have one in your life, it's time to spoil your nurse! They are some of the hardest working, tireless, selfless, big-hearted groups of people out there.
Let's hope you didn't need one this year, but if you did, let's toast to them (and buy them a wonderful personalized gift, too).
Please note, this post contains affiliate links to our products and others.
When Is Nurse Week?
National Nurse's Week begins each year on May 6th, and ends on May 12th.
Why, do you ask? Because May 12th is Florence Nightingale's birthday, of course! So the entire week leading up to it has become a time to recognize and honor the service of nurses everywhere.
These permanent dates enhance planning and position National Nurses Week as an established recognition event.
When Is Nurse Appreciation Day?
May 6th.
(And you were afraid Cinco de Mayo would leave you sad!)
What Are Some Crappy Gifts to Avoid?
Here are some real gifts that nurses have actually received - and loathe:
Anything with the hospital name on it. Just don't.
Cheap water bottles, pens, totes… doubly so if it has the hospital name on it.
Store-bought cookie platters. The kinds that start out stale.
Plasticy fanny packs. With the hospital's name printed on it.
Junk with inspirational messages.
Things like mints with a note stapled on that says, "Thank you for your commitMINT."
Coupon for a free cookie from the cafeteria.
A highlighter.
$10 off coupon for a recertification course.
That's right, managers or HR people have actually thought about nurse gift ideas and chosen those ones. If you're the person tasked with picking this year's gift, don't fall into that trap. Choose a good gift.
Which leads us right to the next question...
What Are Some Good Nurses Gifts?
Here are some things that people (because, remember that nurses are PEOPLE!) actually want:
Homemade or artisan made baked goods. We're NOT talking something bought at the Safeway bakery, or something you bought from Costco, and plated all by yourself. We're talking from-scratch, baked with love, carefully wrapped, and presented with a beaming smile (and maybe a bit of flour on your nose).
A really good set of earbuds or headphones. Perfect for those lonely night shifts, or for when they're out exercising and blowing off steam.
A cozy blanket. Maybe package it with one of those tea-sampler-or-hot-chocolate-in-a-mug thingies. After all, what nurse doesn't like to wrap up in a warm, snuggly blanket with a hot drink?
A gift certificate to a spa or for a pedicure. Do your research and find one that matches their personality. Organic? High-end and pricey? Nearby their home? Posh and swanky? Cute and small?
A pretty watch for her, or a sophisticated one for him. Watches are coming back in style, and for someone who always needs to know the time but can't always have their phone on them, this will be cherished!
Local wine. A reusable tote/crate/box filled with your local winery's best vinos.
Craft beer. A reusable tote/crate/box filled with your local brewery's best ales.
A night out. Spring for a voucher at a local or nearby (we'd say within a 3-4 hour driving distance at the furthest) Airbnb, or Bed and Breakfast. Casually ask around about their hobbies and plan their destination accordingly, or just do a hotel/Airbnb/VRBO certificate.
A destination of adventure. Depending on where they live, you might be able to find anything from a tree house resort, to a ski lodge, to a swamp tour, to a lesson on the flying trapeze! Think outside the box and see what's out there that they've likely never tried before. (Here are some great "experience gift" ideas.)
A vintage book based on medicine, or on one of their hobbies. Make sure to carefully gift wrap it, and maybe inscribe the inside cover with a meaningful note just for them.
Something personalized. And again, NOT with the hospital's logo! With her or his name so it's actually personal. Keep reading for the best ideas...
10 Best Personalized Gifts for Nurse Week
1. High-Quality Personalized Tumbler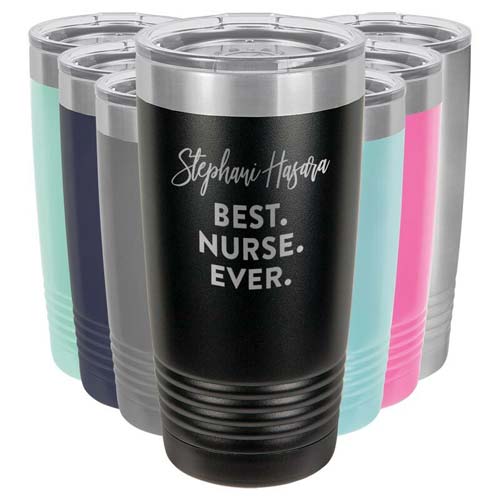 On their feet all day (and sometimes all night), staying hydrated is key for your favorite nurse! Make it easy with this personalized, high-quality, vacuum-sealed tumbler. Make sure to get it in his/her favorite color! They're going to love never wondering if someone took the wrong beverage home from the break room.
2. Personalized Luggage Tags
No one deserves a vacation more than a nurse! Make it even more special and less likely to get lost or mistaken for someone else's luggage, with these personalized luggage tags! They'll be so starry-eyed with how good something so simple looks, they may want to buy new luggage!
3. Personalized Bottle Opener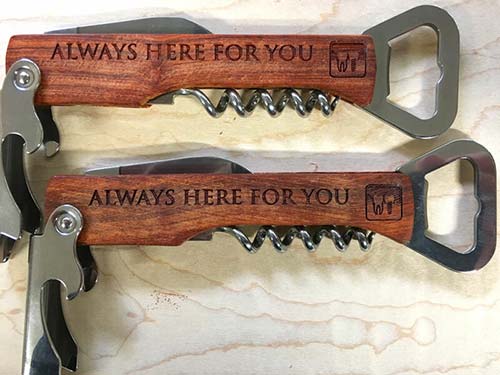 An evening sip of an adult beverage (or a good quality root beer) is much appreciated and needed after a long day of nursing at the hospital. They'll remember you each and every time they use this personalized bottle opener and corkscrew. And since it's made so well, that will be a LOT of times!
4. Personalized Handcrafted Nurse Sign
There are signs all over the hospital or doctor's office where they work, but how about a sign just for him/her to hang in their own home? This personalized and handcrafted nurse sign with custom engraving will earn a spot of honor on their wall.
5. Personalized Medical Themed Bird Feeder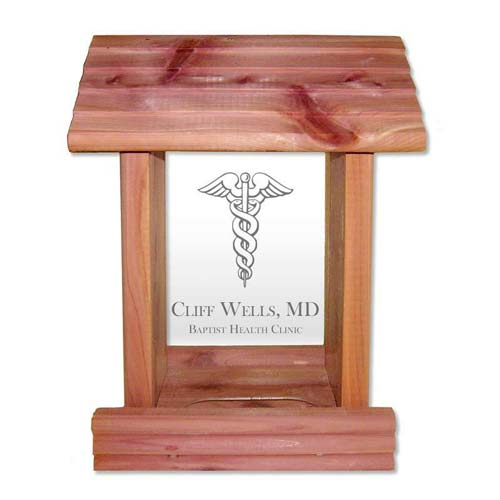 Nurses spend so many hours under those harsh fluorescent lights! They need as much time out of doors in nature, soaking up some all natural UV lights, and just watching the birds. They're going to love this personalized medical themed bird feeder. Get ready to hear, "Where in the world did you get this?! I love it!"
6. Monogrammed Pullover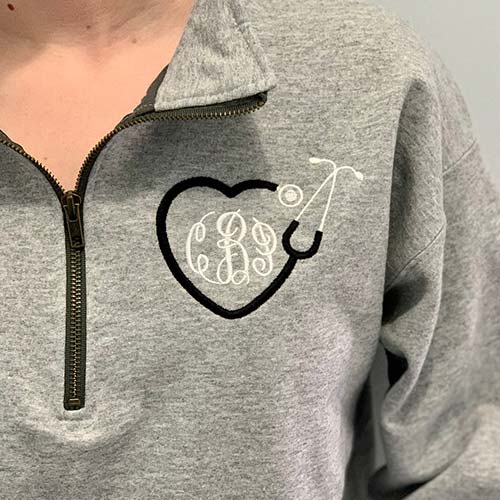 Hospitals are notoriously chilly, and of course your poor nurse is likely crawling into their car in the dead of night half the time. Why not make it more enjoyable with this cozy monogrammed nurse pullover? Buttery soft and snuggly, they may never want to take it off (maybe get two?).
7. Custom Engraved Coaster Set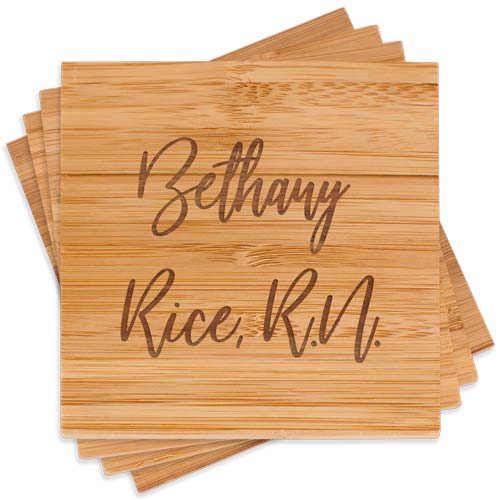 Coasters just make one feel swanky and posh, don't they? Well, just wait and see how sophisticated and grown-up your favorite nurse feels when they receive these custom engraved coasters! Made of bamboo and including their own holder, this will be a lovely gift for a lovely person.
8. Personalized and Engraved Bible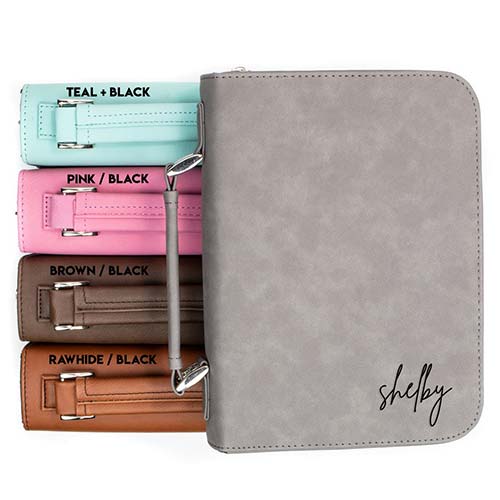 If you know your nurse is the more spiritual type, a personalized and engraved Bible will blow them away with your thoughtfulness!
There are a lot of different versions and price points to choose from online, or you might ask your local Bible giftshop or bookstore for their recommendation.
You can also go with a Bible cover, and if your organization is non-religious, you can find lovely leather journals to personalize instead.
9. Personalized Cutting Board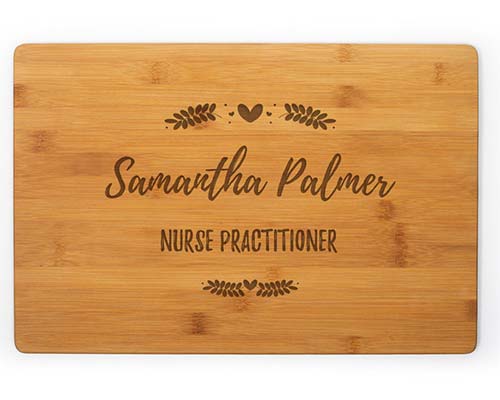 The perfect size for displaying on their counter, coffee table, or just getting lots of use in the kitchen, this personalized cutting board is just the thing for the budding amateur chef. Made of bamboo with a lovely floral pattern, it can be personalized just the way you want it … you can't go wrong with a simple but heartfelt "Best Nurse Ever."
10. Custom Engraved Glass Coffee Mug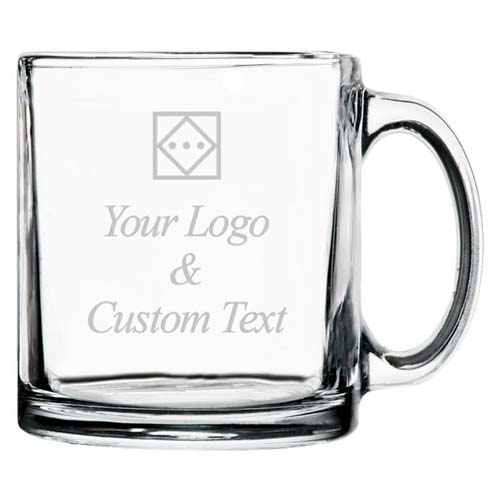 Is there a nurse out there who doesn't drink coffee? We don't think so. Say it isn't so! This personalized glass coffee mug can be custom engraved by you, their favorite patient. They'll be reaching for this morning after morning, and is sure to become their favorite of all their cups!