An great man cave needs some seriously awesome man cave plaques. At Northwest Gifts, we sell tons of unique and personalized man cave accessories, including custom engraved pint glasses, personalized bottle openers, oak barrels, cork cages, dartboards, chalkboards, clocks, plaques, signs, and more – all ideal for accenting your man cave. Here are 15 of our most interesting and most popular man cave signs:
1. Personalized Man Cave Plaque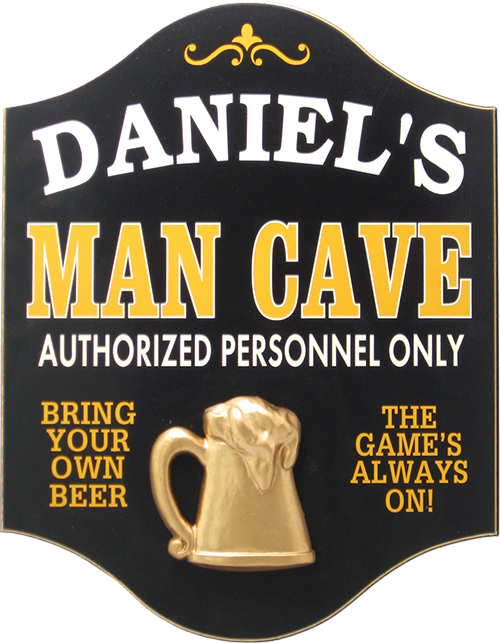 Our best-selling man cave plaque is far and away the Man Cave Plaque Personalized. As with most of our silkscreen printed signs featured on this list, this man cave sign is made from furniture-grade MDF wood right here in the USA, customized with your name, crafted in a classic 'pub sign' shape, and boasts a golden beer mug applique along with classic manly quotes such as "Bring Your Own Beer" and "The Game's Always On!" The perfect gift idea for any guy with a man cave.
2. Man Cave Clock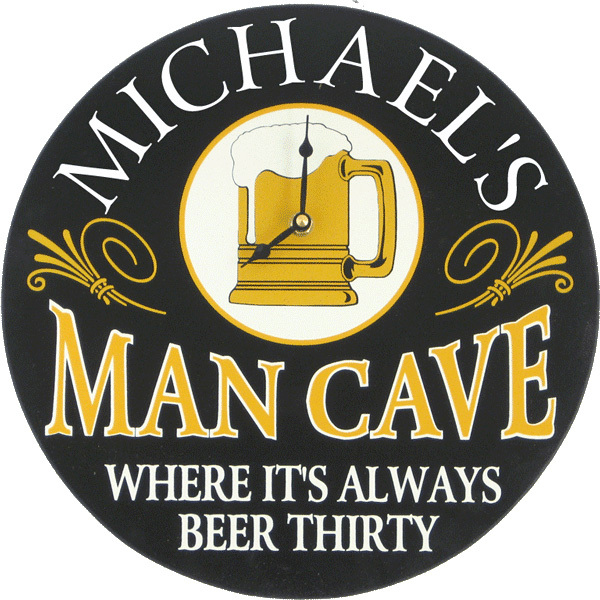 The Man Cave Clock is a 12″ round real working clock, personalized with your name, and indicates to all visitors that in your man cave, it's always beer thirty. A value bargain, priced under $30.
3. Personalized Man Cave Plaque For Your Team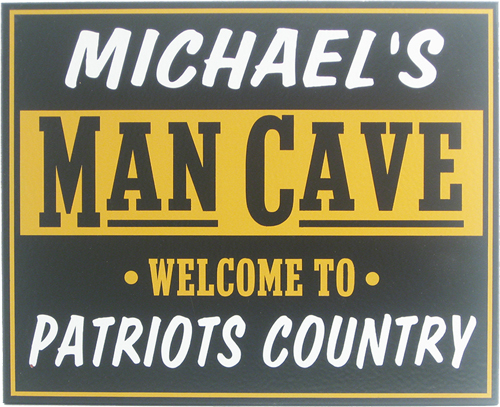 Welcome all comers to your team's man cave country. Cheer on your favorite sports team with this personalized man cave plaque, which includes your name and the name of your hometown team. Another value bargain, priced under $30.
4. Michigan Wolverines Man Cave Plaques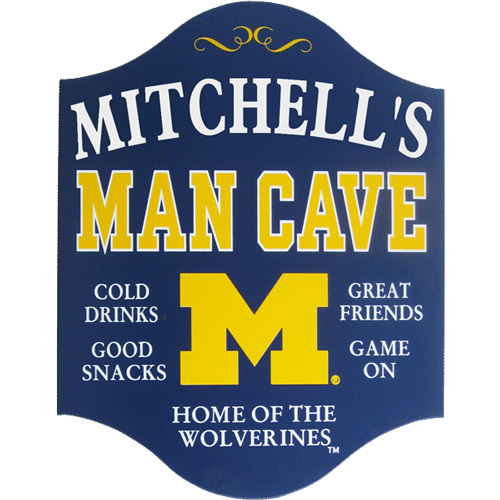 Perfect for the collegiate sports fan or alumni man cave, our line of NCAA licensed Man Cave and Fan Cave signs will not disappoint any college football fan. The Michigan Wolverines Man Cave Sign Personalized is our best-seller for this line – Wolverine fans represent! Woot! (If you don't see your team listed below, check outthe complete collegiate collection here.)
5. Custom Home Bar Sign with Mug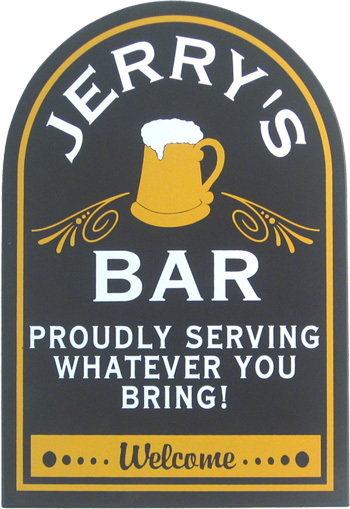 This man cave plaque is simply yet attractively shaped, with great contrasting colors which unite the beer mug and the "welcome" text. Your name is custom silkscreened onto the wooden wall decor piece, making it the perfect "home bar" man cave sign. Yet another bargain man cave sign, priced under $30.
6. Home Bar Custom Man Cave Sign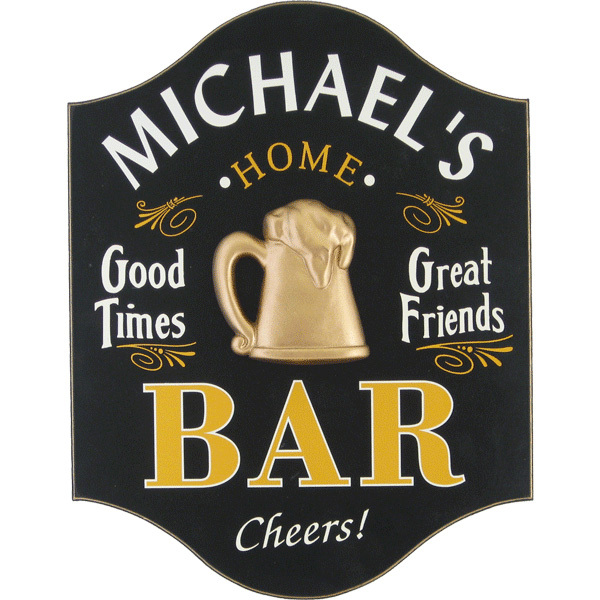 Another classic "home bar" design for the man cave with a home bar. Personalized, as always, with your name, this man cave sign features a 3-D beer mug relief in the center and accents such as "Good Times" "Great Friends" and "Cheers!"
7. Beer Mug Tavern Custom Quarter Barrel Plaque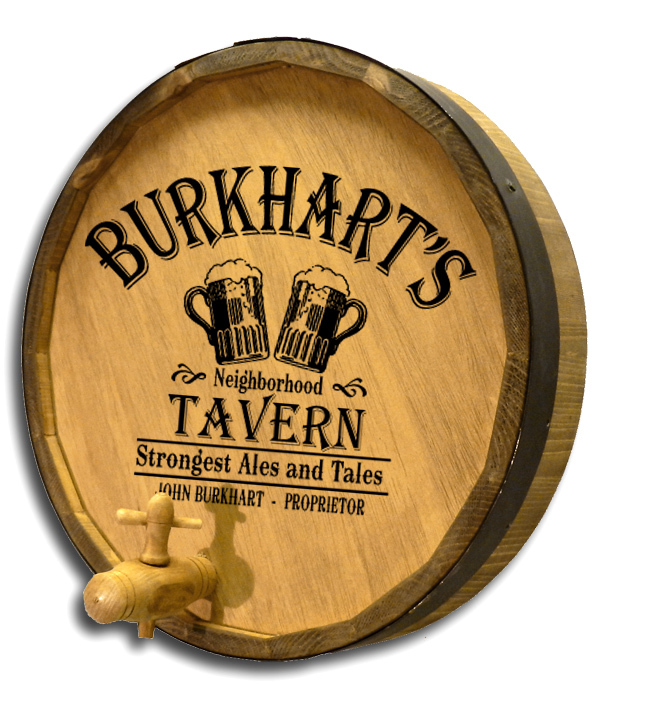 Part of our huge array of oak aging barrels and decor, our Quarter Barrel Signs are made from an authentic oak wood "quarter barrel", complete with spigot. This neighborhood tavern design is perfect for the friendly man cave pub, custom laser engraved onto the barrel head with your choice of tavern name, some clinking frothy beer mugs, the proprietor's name.
8. Florida Gators Man Cave Plaques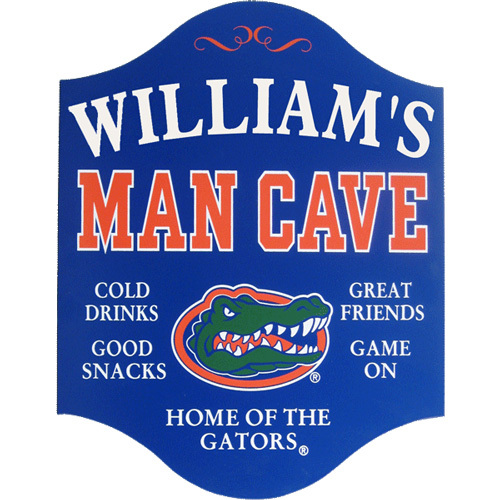 The perfect gift for a Florida Gators fan… silkscreened in Gator blue & orange, personalized with first or last name, this NCAA licensed man cave sign includes Florida's logo and comes ready to hang in your Gator-themed man cave. We also have Gator Fan Cave, Game Room, and Clock items.
9. Beer of the Week Brewery Plaque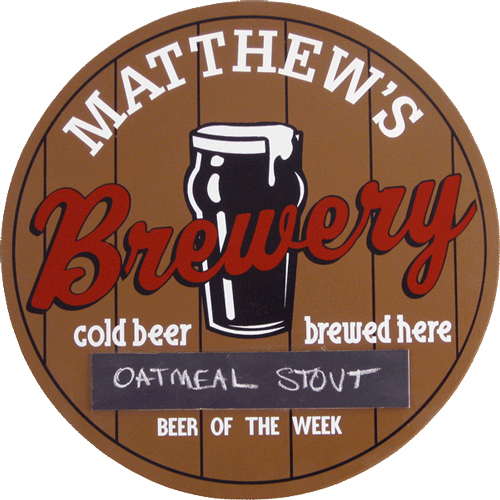 This nifty round plaque is made from MDF wood, comes ready to hang, and is finished in colorful style with your name personalized across the top. This beer-themed man cave sign includes a mini chalkboard for writing in the "beer of the week" and indicates to all visitors that this man cave is well-stocked.
10. Man Cave Plaque Oval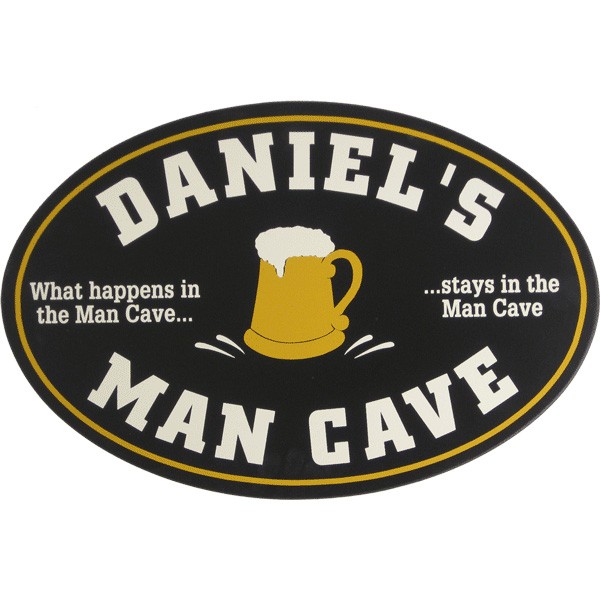 This oval-shaped man cave sign is personalized with your name and boasts a frothy beer mug illustration along with the quip, "What happens in the man cave… stays in the man cave". Another bargain priced man cave plaque under $30.
11. Personalized Garage Clock Sign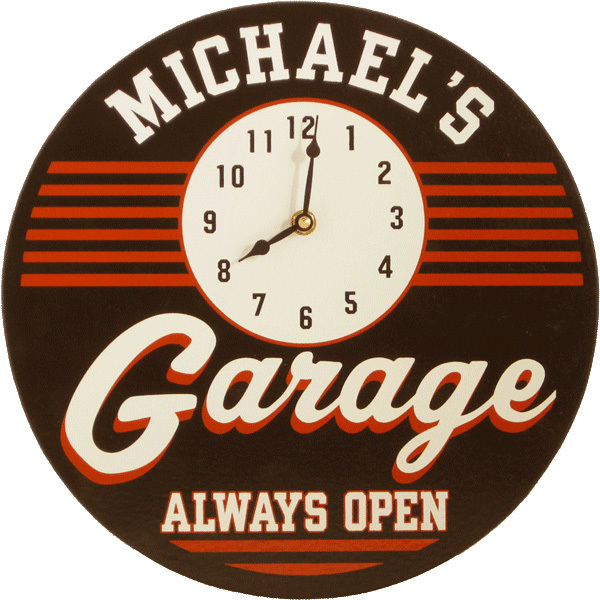 A great gift idea for the guy whose man cave is his garage. This working clock includes personalization and has a fun retro / vintage look to it, with classic 1950′s style red stripes and accented lettering.
12. Home Brewery Man Cave Plaque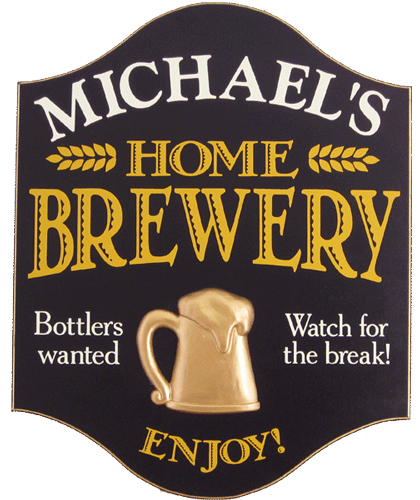 A subtle wheat theme accents this "home brewery" man cave sign, personalized with the name of your choice and arrives ready to hang.
13. Custom Irish Pub Sign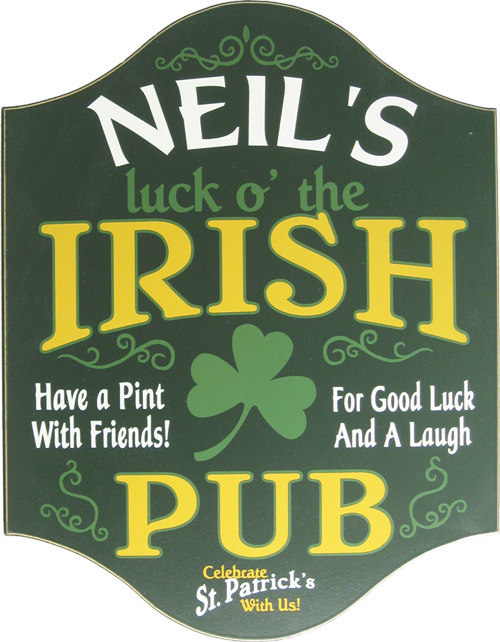 Celebrate the Luck O' the Irish with the Custom Irish Pub Sign, one of our many Irish wall decor plaques.
14. Penalty Box Custom Hockey Pub Sign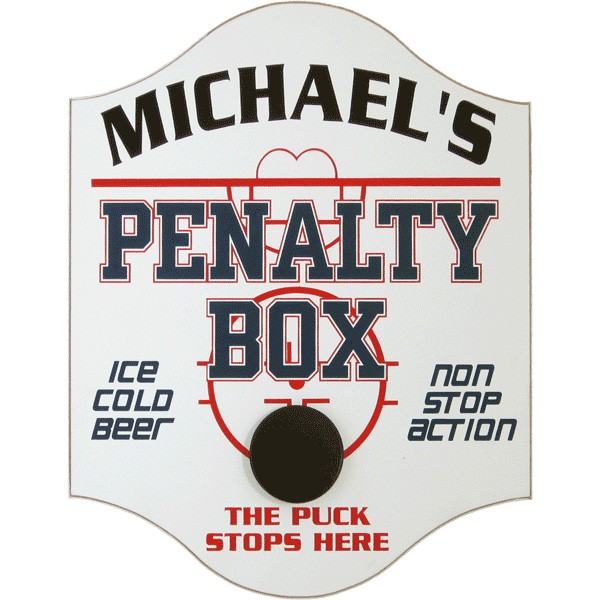 The ideal gift idea for a hockey-themed man cave. Any hockey fan will love this personalized "penalty box" home bar sign, with ice colors and a puck affixed to the front of the sign. "The puck stops here!"
15. Man Cave Corkboard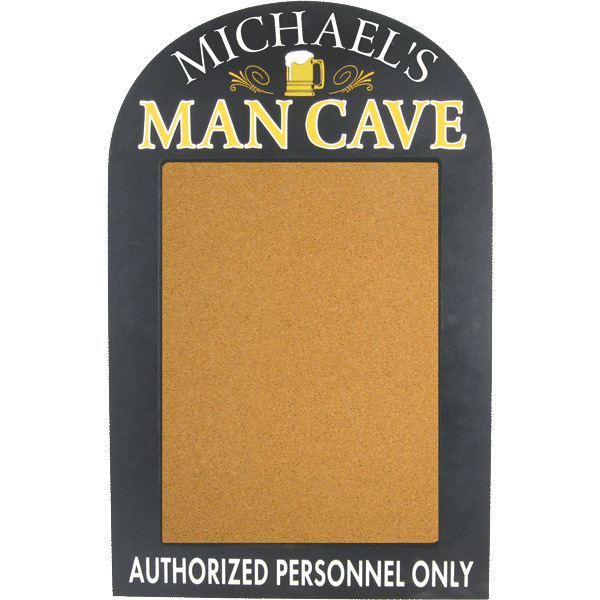 Personalized corkboard sign for your man cave. Post important updates, game times, home brew recipes, playoff brackets, or anything else on this custom man cave corkboard.
Want more? Browse all of our great Man Cave Plaques!